Swimming Pool at the Juniors
Polehampton Swimming Association - Volunteers needed, can you help?
Can you help? The Polehampton Swimming Association are looking for more people to join the committee and being involved with running the pool. There are various ad hoc as well as day to day tasks such as maintenance, gardening, pool water checks, supervision and admin tasks which go on behind the scenes. New volunteers are always welcome.
If you do have any time, it would be very gratefully received. EVERY Polehampton child benefits from having this amazing pool within our grounds. Further details on how to attend are on their Facebook page or check their website for contact details. https://www.psaswimming.co.uk/
We are extremely lucky to have a 25-metre-long, fully tiled, heated outdoor swimming pool in our grounds, with showers and changing facilities.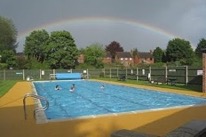 Our pupils have the use of the pool for swimming lessons throughout the summer term, culminating in two exciting swimming galas; the Inter-House Swimming Gala (all children take part) and the Inter-School Swimming Gala (children are chosen for our school squad). Parents are welcome to attend both events.
Swimming lessons will start in May. Each class will have two sessions timetabled per week and the swimming programme also includes two galas, held at the end of the summer term.
The pool is managed by the Polehampton Swimming Association (registered charity 309032), which was established to provide a swimming pool for the use of Polehampton Schools and the local community.
For more information about the Polehampton Swimming Association, visit their website at: http://www.psaswimming.co.uk/